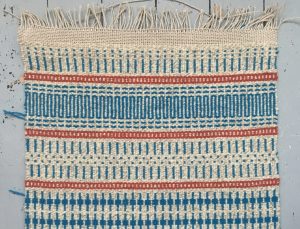 About
Isfrid Angard Siljehaug (b. 1986 Trondheim, Norway) is an artist living and working in Amsterdam. Her work can be described as an interlacing of text and textile. Through printmaking, hand weaving, writing and large scale wall-drawings, she rediscovers our cultural heritage of images. The visual works are often accompanied by texts written by her. Taking inspiration from archeology, ancient languages and the biological history of our body, the texts are poetic reflections on specific elements from the past. Perhaps they can give clues to thought, value and wisdom that are important now to continuing for the future. Isfrid works in the area between craft and fine art.
Isfrid Angard Siljehaug graduated from the Gerrit Rietveld Academy Amsterdam in 2010 and from Master Artistic Research at the Royal Academy in the Hague in 2012. From 2017 – 2019 she has been following a part-time vocational training for weaving at De Ambachtelijke Weverij, Amsterdam. She has written for various publications and been invited to group and solo exhibitions including Gallery 207, Prague, Friedrichstadt Zentral, Dresden, Nieuwe Vide, Haarlem, WM gallery, Amsterdam, Box43, Zurich, Hortus Bortanicus of VU Amsterdam, W139 Amsterdam, PuntWG Amsterdam, Hoengseong Culture and Arts Center, Korea and Oslo Kulturnatt.
You can follow my research and textile work on instagram.
For recent portfolio, CV and other requests. Please don't hesitate to contact me on info[at]isfrid[dot]com
This website is currently being updated to a new version soon.